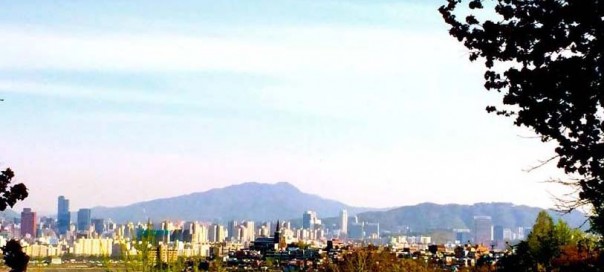 Veronica O'Connor

For many cities around the globe, April marks the arrival of a greatly anticipated event: Spring!
Like Paris, Tokyo, and Washington, D.C., Seoul is a metropolis celebrated for the transformation its boulevards and parks undergo as flowers of every color take bloom, temperatures begin their upward climb, and the "winter blahs"are banished – at least temporarily.
One of the best places to experience this urban transformation is Namsan Park, the largest in the South Korean capital. A recent walk there revealed fragrant cherry blossoms and lilac, trees in various stages of bloom, ponds teaming with life, and even a small wondumak – a traditional open-air, thatched-roof raised pavilion. All this enveloped in a tranquility that is hard to come by in a city of some 10 million people.
As the geographical center of Seoul, Namsan Park is a small mountain, known as Mt. Namsan, rising about 260 meters from its base. Walking opportunities abound to experience nature at its best – there are numerous easy, beautifully maintained walking paths as well as more sweat-inducing staircases routing up to the summit. And for those who want it all – a gorgeous view without all the work – a cable car is available to whisk you right up to the top.
Whether it's 30 minutes or an entire day you have before you, a visit to Namsan Park is a "must do" when in Seoul at anytime of year, but especially in springtime when the birds are chirping, the sun is shining, and a pause from this dynamic, always-moving city awaits.