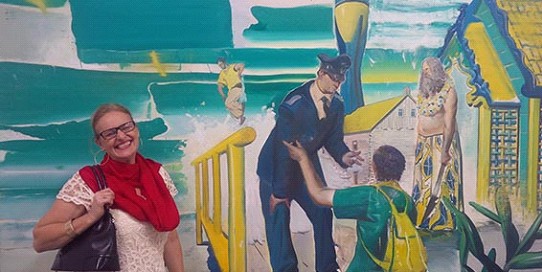 Elise Hawthorne

I'm fascinated by what led talented artist Cash Brown to put her art practise mostly on hold to head off to study a Master of Conservation of Cultural Materials at the University of Melbourne. When I put that question to her, she revealed that, "working within the sector to support my art practice has to date been very rewarding and challenging, however in all honesty, I have always had a love of science. Combining that curiosity with a great respect for cultural materials, art history and being able to apply science to the preservation of artefacts is a very exciting prospect. It also feeds into my practice, and the rigour of the course is very stimulating. I am not sure where it will lead, but the journey is truly exhilarating."
Cash packed up her home in Sydney and made the move to Melbourne as the course is the only post graduate degree available within the Asia Pacific region, so it was move there or to Europe or North America.
The Master course has meant Cash completed a chemistry bridging course, in her words, "it enabled me to understand solubility parameters of solvents, in relation to being able to remove adhesives, graffiti or aged varnishes for example without damaging the paint or object underneath."
It seems that there is so much more to conservation than cleaning paintings, fixing tears and in-painting.
The preventive side to conservation is of great interest to Cash, "I have learnt a lot about caring for collections, as well as the ethical concerns and responsibilities conservators can face. Helping artists to make decisions about their materials and techniques, as well as preventing and fixing damage to artwork is where I am headed – initially institutionally, and then on to private practice."
Below are the before and after images of the first major treatment Cash has undertaken – it is a 19th century copy by an unknown artist of  Rubens' Self Portrait with a Hat. Cash said, "the painting was in a poor condition and was a serious challenge, but I am pleased with the result – it is almost as satisfying as if I had painted it myself, but it still needs a bit more retouching and a varnish."
As a child, Cash was one of those children who were constantly drawing and making bits and pieces. An early love of Fred Williams' paintings as well as being blessed with an encouraging mother influenced the artist she became. A long time lover of horses also led her admire the self-taught English painter George Stubbs. Indeed Stubbs' The Kongouro from New Holland painted in 1772 is thought to be the first depictions of an Australian animal in western art.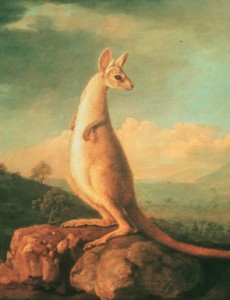 Cash's own art practice is totally subordinated by study at the moment, but she is curating an exhibition EMIT at Chapel off Chapel in August. It is part of the Glow winter festival in the City of Stonnington in Melbourne, Cash shares that, "the exhibition focuses on artists whose practice relies upon emissions; sound, light, social intervention and so on. It's pretty exciting and will be interesting to see how much my conservation training impacts and influences my curatorial activities."
Cash has also been putting together a program for the upcoming Melbourne Art Fair, titled, Conservation Conversations, it aims to provide a platform for visitors to listen to talks and demonstrations at the Centre for Conservation of Cultural Materials labs and at the Ian Potter Centre at the University of Melbourne. These are student led, and Cash believes, "will provide a great insight into what conservators do, and the very cool conservation science which is often invisible."
Cash was recently at the Art Basel|Hong Kong and is now based in Utrecht in the Netherlands, completing a 3 week internship working with the Rabobank Kunstkollectie. This is a fantastic opportunity, which Cash fully appreciates, "they have an amazing contemporary art collection, and beautiful exhibition spaces at their head office, and it's very exciting".
After that, she will be stalking Rubens in Antwerp, then off to Switzerland to another art fair, then on to Edinburgh to visit the National Gallery of Scotland. As if that isn't enough, she will then be filling up on more art at the Rijksmuseum in Amsterdam, Heironymous Bosch at Den Bosch then on to Copenhagen to view the amazing collections in Ordrupgaard, Ny Carlsberg Glyptotek, The National Gallery of Denmark and Kunsthal Charlottenborg to name a few. Then it's off to London to attend Ben Quilty's exhibition opening, and of course take in the major galleries there (she especially likes the Courtauld) before heading back to Melbourne via Sydney for a few days to work on her thesis. Cash's year is full of adventure and exposure to a lot of international art; it doesn't get much more inspiring than that.
You can follow Cash's art adventures via www.cashbrown.org
Lead photo is of Cash Brown in front of a Neo Rauch painting at the David Zwirner stand at Art Basel | Hong Kong