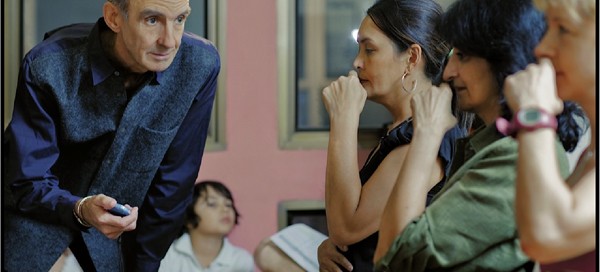 Elise Hawthorne

I first met Jac Vidgen over twenty five years ago when he was the creative force behind the legendary RAT parties in Sydney. Jac has always been ahead of the pack, he is a visionary who is now a Senior Buteyko Practitioner based in Asia.
Jac was always interested in alternative health and was introduced to the work of Professor Konstantin Buteyko, the Russian doctor who developed a breathing method to overcome asthma and other disorders.
Jac started working for Buteyko Australia part-time and very soon was so impressed he trained to teach the method, which he has now been doing exclusively for nearly 20 years. He was first based in Sydney and was also working in country NSW, but then decided to introduce the method to Asia. He is now based in Manila, working in the Philippines and Hong Kong as well as on line.
Buteyko discovered that all people with chronic illness actually over-breathe; resulting in excessive loss of the vital chemical CO2 and this in turn causes reduced oxygen supply to cells and a range of other disturbances to various systems of the body. Jac points out, "Nowadays, our fast, modern lifestyles ensures that basically everyone over-breathes to some degree – and this is a major factor behind many of our health concerns".
The Buteyko technique involves quite a lot of "breath meditation", sitting in an upright yet relaxed posture and focusing on the breath with specific attention to certain parameters. But it also has a more aggressive application, which allows students a powerful tool to quickly overcome many common symptoms (such as coughing, wheezing, sneezing, hay fever, blocked nose, hyperacidity and anxiety) and some less common ones. Over time, it allows one to stop snoring/apnoea, assists with weight management, addresses hypertension, headaches and diabetes, and will enhance sports performance.
Jac has witnessed firsthand how the Buteyko method has changed his life and the lives of his students. By practising this breathing method, Jac has been able to reverse his allergic rhinitis, which he had suffered to varying degrees for around 40 years. He has a much more robust health and well-being, breathing less, sleeping less, eating less, yet having better energy levels – and doing more physical exercise at 64 years of age than he has ever done before.
"Having taught the method to thousands over the years, I have consistently witnessed extraordinary results with anyone who applies it effectively, allowing them to reverse many chronic health issues and to safely live with much less dependence on medications. Frankly, amazing results become routinely available when people practice Buteyko's method under the guidance of an experienced teacher".
Jac's top 5 tips for improving ones health:
1) Always breathe in and out through the nose for all activities (except talking, snorkelling, scuba and possibly freestyle swimming)
2) Breathing should always be as gentle as possible for the activity you're engaging in – so breathing should never be forced nor make a noise, and chest should never move while at rest
3) Don't eat unless you are hungry – overeating particularly disturbs breathing and heart rate – and eat more vegetables and less protein
4) Never sleep on the back – left side is best – and never eat for hours before sleep – nor use digital technology for at least half an hour before sleep…. and don't oversleep – quality is the key – not quantity!
5) Practice some regular physical exercise (with mouth closed, of course!) – and sweat regularly – then make sure to have "still" time daily – with quiet breathing, quiet mind and quiet body
For more information contact Jac Vidgen at: www.buteykoasia.com