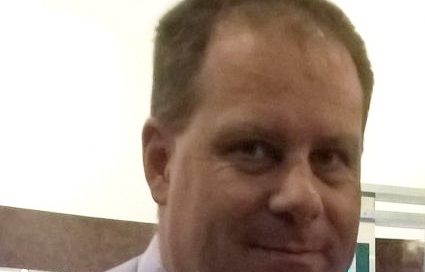 Interview by Elise Hawthorne

Foster Care Week, 11 – 17 September honours the essential role played by foster carers in our community, and this year's overarching theme; 'Be Part of an Amazing Journey, Foster a Child's Future' provides the opportunity to highlight the ways in which foster carers are valued as part of a team in working to achieve stability and permanency in the lives of vulnerable children and young people.
Sydney based foster carer Dave Noble will inspire others to consider taking the foster care journey. Dave has been a foster carer since March of this year, he is single and cares for his foster son aged 11. Dave works as an IT professional teaching platform applications and is a very committed carer; a dedicated father who is very much education focused.
Dave has also successfully advocated on behalf of his foster son (to the Dept of Education) and provides amazing advocacy for the young person in his care . Dave is also involved with birth family and attends all family contacts .
It is estimated that 660 new foster carers are needed over the next 12 months in NSW – across all types of care: emergency, respite and short term carers.
Q & A with Dave Noble
What led you to becoming a foster carer?
I had thought about it for a long while. Although not having had children myself, I was keen to engage in parenting. It took me quite a long time to build up the confidence to actually press "enter "on the enquiry page. Originally I thought (as it seems a fair number do) that only couples would be wanted.
I then looked into Children in Care more deeply and saw so much about the need. Having a home to live in improves their lives and their long term chance's of entering into adulthood – I then thought about how I might be able to help even one kid have a better childhood and improve long term prospects. I became really invested in wanting to foster.
Due to my own circumstances of being a single person and having to also work, I knew that I could only foster older children (11+) and so I contacted agencies that focused on the older ages.
What are the challenges of being a foster carer?
The same as any other parent has, plus a few extra; such as taking Oliver* to counselling sessions; I understand that he has trauma and recognising the symptoms and trying to support him appropriately.
Initially when Oliver came into my care, there was an early challenge with an iTunes account where he accessed and downloaded games -a $2400 bill was racked up!
The biggest challenge with the said scenario was not the money side, but the shame he felt and handling the distress of how Oliver* perceived psychologically his place in the mistake – how he processed it emotionally.
The reaction for him was very distressing, and also distressing for me. I had to let him know that I would still be there for him no matter what and that "mistakes happen" .
Showing him that the problem could be sorted out by a discussion with the relevant parties and it wasn't the "end of the world "and that of course "he didn't have to leave ". Perhaps, his past trauma indicated that he may have been blamed and shamed for even the smallest mistakes. It was a learning curve for both of us. (Suffice to say that ITunes waived the $2400 bill – a happy ending for all 🙂
There is also the impact when the child decides to reveal things about his past; if he/she trusts you to tell you about things that have happened, it can sometimes be confronting.
There are other smaller challenges – once a month Oliver has contact with his family , so I need to ensure that I can get him to this.
Some things that would normally be no issue to a parent, such as going on holiday have more bureaucracy. For example, to take him on holiday, I needed to get him a passport. Getting a passport is not quite as straightforward as it would usually be; luckily I have managed to build a good relationship with his birth family and getting documents such as a parent birth certificate was not too hard.
What are the rewards of being a foster carer?
I have the most wonderful, loving boy; seeing him happy and developing is wonderful. Father's Day earlier in the year gave me the most wonderful reward when Oliver* viewed it as Carer's Day and made me breakfast in bed. This was such a great thing for him to want to do.
Being able to share my world with him and introduce him to new experiences and places and enjoy the happiness it gives him. Recently I was able to take him on a 3 week trip to visit Sri Lanka, Qatar, The United Kingdom of Great Britain and Northern Ireland and Singapore; showing him the sights and introducing him to family and friends there.
What positive changes have you witnessed in your foster son since he has been in your care?
Soon after Oliver moved in there was an education planning meeting with his school. One of the few areas of concern was to do with English and it was suggested that increasing his reading would help; after finding novels that engrossed him, he has become quite an avid reader.
He has grown in confidence; to get to and from school each day, he has to take 2-3 buses each way. He is able to navigate the journey each way with ease. He is a member of a local scout group and now happy and confident to go away camping with other scout groups.
That he trusts me and is able to talk to me openly about problems he may be having is a huge step forward.
How has being a foster dad changed you?
I now have someone to care about and who cares about me and is someone that I now put first in my life. I now am involved in activities that he is interested in; I have been working to help him attain scouting badges so that he can attend the New Zealand Jamboree in December. This week , for example, I am involved in a fund raising quiz night at his scouts group where I have written the questions and am presenting the evening.
I am a part of his life and I hope I am making a positive difference to his life.
You have a foster son, do you see this as a long-term situation and do you think you will foster other children?
I hope that it will be a long term situation; I do not expect to foster other children (other than perhaps for short respite periods) whilst Oliver* is here.
How do you juggle work with fatherhood?
The hours I work when teaching allow me to be around most times when Oliver is home, plus some other work I can do from home; the only problem is when I need to travel. I am fortunate in that there is a carer who is able to allow Oliver to stay if this happens.
What advice would you give others thinking about taking the foster parent journey?
First of all – do research into it. There is a lot of information available that can help potential foster parents have an idea of some of the realities before going forward.
Be sure that you are doing it for reasons that are for the benefit of the child. Foster children need someone who is wanting to take a child in and care for and love and treat as you would one's own biological child. Carers have to the patience and understanding of how the foster child will more than likely have traumas and not just be grateful to be in your home – carers who understand this is likely to be in the right mind set to become a carer.
How does your agency Star Foster Care support you and your son in your foster care journey?
My current caseworker is wonderful; really supportive and happy to try and assist where she can. A really nice person who I can think of as a friend.
Any other thoughts that you would like to share?
When you do decide to proceed in becoming a foster carer, contact at least 2 agencies. I spoke to 2 agencies and I was glad that I did since there can be a big differences in agencies style ; make sure that you are happy with the person you will be interacting with.
Be prepared for there will be several long in-depth and slightly intrusive interviews; but try to remember that these are to both help the agency understand you and also help in finding a placement with a child that is a good fit for all concerned. It does work 🙂
Many people considering becoming a foster parent only look to foster young children; do not discount older children as 11 year olds, 13 year olds etc need and want good caring homes just as much as young children . Oliver , who turns 12 soon, is such a wonderful boy yet could be overlooked if carers only wanted to care for young children and babies.
If you have been considering it ( or are considering it now ), do pick up the phone and call – or fill in an online interest form with an agency; someone will come round one day / evening to see you and help you decide. If you do not call, you are missing out on an amazing opportunity. My only small regret is how long it took me to decide to take that first step
Dave's sister Imelda Noble gave us her thoughts too.
We were lucky enough to meet Oliver when he visited us in the UK this summer. He is such an engaging, bright and lovely boy. He played so well with our 7 year old son and was very kind and gentle with our 3 year old daughter. It feels so natural to consider him part of our family and we do hope we continue to get to know him for many years to come. It is also clear that he and Dave have a strong bond and there is plenty of trust there. They seem just perfect for one another and we just wish we lived a little closer so that we could spend more time with them both and do things together.
* For privacy reasons we gave Dave's child the pseudonym Oliver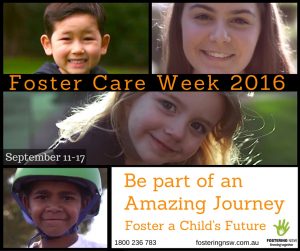 Foster carers are a diverse group, ranging from traditional families to single people, empty nesters, caring professionals and same sex couples. There is also a huge need for Aboriginal carers.
There are almost 20,000 children and young people in NSW unable to live at home, there is always a need more foster carers.
Through its NSW statewide Fostering NSW campaign, ACWA is looking to recruit new foster carers over the coming year to help cope with the rising number of children entering out-of-home care.
Foster carers are an integral part of a team, working with the caseworker and at times a child's birth family to support the child or young person to be the best they can be.
There is always support available; out-of-home care agencies provide foster carers with ongoing support, training and mentorship to assist them in providing the best care they possibly can.
Fostering NSW offers information on a range of care options for children and young people who are unable to live with their birth parents, including foster care, open adoption and guardianship.
It assists people to become carers, with the aim of achieving stable, loving homes and a better future for these children.The Fostering NSW campaign is a partnership between the NSW government and non-government foster care agencies and is managed by The Association of Children's Welfare Agencies (ACWA), which is a NSW non-government peak agency for organisations that provide services to vulnerable children, young people and their families.
For more information visit: www.fosteringnsw.com.au or call 1800 236 783.