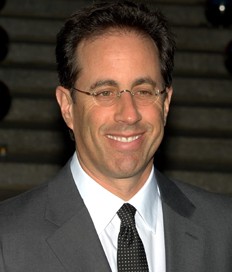 Elise Hawthorne

I must have seen every Seinfeld episode at least twice and they still make me laugh out loud.  A while back I discovered Comedians in Cars Getting Coffee and I am slightly addicted.
I can't wait for each new episode, I'm on their emailing list so I know when it's time for my next Jerry and his funny friend fix.  I mean that Jerry Seinfeld is just flat out funny – am I right?
It has been 25 years since we were all introduced to Jerry and his crew on a weekly basis, his TV show is iconic, up there with I Love Lucy and M*A*S*H.
I always like to celebrate people like Jerry, people who make us feel happy –  lord knows the world is crazy and a laugh is what we all need in spades.

Jerry continues to make observational humour enjoyable so let me introduce you to Comedians in Cars Getting Coffee if it hasn't already appeared on your radar – enjoy!
comediansincarsgettingcoffee.com/jon-stewart-the-sound-of-virginity
Jon Stewart 'The Sound of Virginity'
comediansincarsgettingcoffee.com/george-wallace-two-polish-airline-pilots
 George Wallace 'Two Polish Airline Pilots'
comediansincarsgettingcoffee.com/howard-stern-the-last-days-of-howard-stern
Howard Stern 'The Last Days of Howard Stern
For more laughs go to:  www.comediansincarsgettingcoffee.com