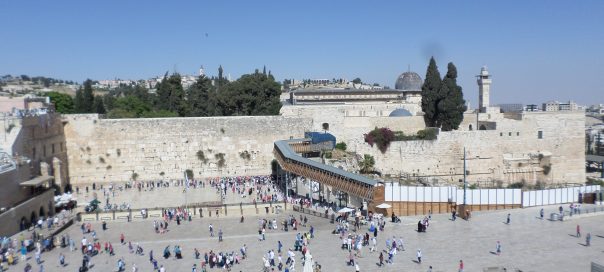 By Elise Hawthorne

Arriving at Tel Aviv's airport propelled me towards what would become a very personal spiritual journey which also felt like a homecoming of sorts. I was also about to mix it up with a delightful group of travel companions which was an unexpected joyful part of my inaugural trip to Israel.
I was very lucky to have been included in the Land and Spirit Kabbalah Tour of Israel organised and led by the delightful and wise Rabbi Dr Orna Triguboff.
Rabbi Triguboff serves at the Emanuel Synagogue in Sydney and is the Spiritual Director of the Neshama Life Association, an organisation that fosters spiritual development through Kabbalah.
Diving into the warm Mediterranean water at Tel Aviv's Gordon Beach washed away my jet lag which prepared this Sydney girl for a 10-day mind, body and spirit adventure like no other I have encountered.
The first unexpected bonus was meeting up with fellow traveller Pippa just before our tour commencing. We breakfasted with her friend Meira Priuman one of the leaders of the Woman Wage Peace group, and it is fair to say they are both my kind of women.
The tour kicked off in Tele Aviv; we dived right in when we arrived at Independence Hall to relive David Ben Gurion's declaration of the State of Israel on the 69th anniversary. I marvelled at the spirit of the brave men and women who were determined to build Tel Aviv on the sand dunes outside the old city of Jaffa.
Our group of twenty-three then travelled by coach to the beautiful hilltop town of Zichron Ya'akov. It was such an honour to spend Independence Day in this picturesque part of Israel.
We moved on touring the Ramat Hanadiv Gardens visiting the tombs of Baron Edmond de Rothschild and his wife; learning about their enormous contribution to a movement promoting the Jewish return to Zion.
We studied the Kabbalah at the Ein Tzur Spring with Dr Yossi Chajes of Haifa University and sang in two-part harmony with the delightful Josh Laufer.  We then ventured to the much revered grave site of Rabbi Shimon Bar Yochai, credited with writing the Zohar, the lead book of the Kabbalah.
Next up we spent three days in the mystical town of Tzfat where we visited synagogues, art galleries, and some of us ventured to the only Hungarian Museum in Israel, which was fascinating – my Austro-Hungarian heritage was awakened so far from home, and I only wished that my father was with me on this tour.
We walked along an at times challenging Rosh Pina trail and learnt Jewish martial arts with Golan Ben Chorin. We visited a Rosh Pina beit midrash, where we were warmly welcomed by the local Jewish Reform community.
Other highlights included…
The delicious food, the people – the joy of seeing Jews, Muslims and Christians living side-by-side just going about their daily lives in harmony and the pleasure of hanging out with my tour mates; hearing their stories, sharing our experiences.
A surprise bonus was that we were very lucky to be in the company of the delightful Emanuel Lieberfreund, a very talented musician and composer who played one of his many instruments – accompanying mediation sessions, moments of quite reflection and at various celebrations along the way.
Attending a Shabbat service in Jerusalem at Shira Hadasha, a pluralistic Orthodox congregation where women can lead services.
Visiting the Israel Museum – seeing the Dead Sea Scrolls up close at last!
Exploring the Western Wall Tunnels and the Jewish and Muslim Quarters of the Old City.
A nature walk and study in the Sataf with Avraham Leader.
Meeting Rabbi Roberto Arbiv, Sufi scholar and pluralistic rabbi who has opened a synagogue as a secular oasis in Tel Aviv.
Having the pleasure of travelling to the Negev and partaking in a Bedouin lunch at the Joe Allon Centre followed by a visit to the Desert Stars leadership high school for Bedouin youth sponsored by the Triguboff Foundation.
Visiting Masada –  a lesson in heroism I'll never forget.
Floating in the Dead Sea at Neve Midbar – I haven't laughed so hard in ages.
The Tower of David Nighttimes Spectacular – with the help of light projected on to this ancient fortress, we were transported back in time, reviewing the history of Jerusalem.
Visiting Jerusalem was my favourite part of the tour. Seeing the ruins of King David's palace was both mind-blowing and a great honour. Visiting the Kotel once on Shabbat and a few days later my thoughts went to my family members who perished in the Holocaust – I must admit I cried and I found it hard to stop.
One of the very special moments was when walking away from the Kotel, Orna, myself and Lynda, one of my travelling companions, linked arms, standing in a tight knit-circle we sang in Hebrew; it makes me weep as I write this sentence. I felt lucky to be able to walk in the Old City; many have died so that my generation and future generations can do so in peace.
Interwoven in our journey was Rabbi Orna's Kabbalistic teachings which not only taught me about the ancient mystical aspects of Judaism but it also brought the tour participants closer together via so many shared meaningful moments. We were all far from our family and friends, but we created our own little travelling family in the land of our forbearers.
I can trace my family heritage back to 13th Century Spain and then as rumour has it back to the House of King David so walking Israel's ancient pathways was a feeling hard to put into words; pure joy just about sums it up.
For more information visit: www.neshamalife.org
Thank you to photographer David Goldman for his beautiful images
Elise Hawthorne is a freelance writer