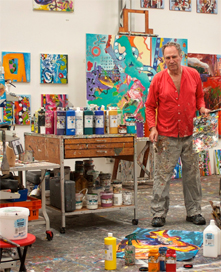 Elise Hawthorne

I love to know what lurks inside the minds of artists whom I admire, to understand their motivation, what inspires them and how it all began; Peter Griffin is one such artist. I recently put a few questions to this very gifted man.
I read that you are influenced by the classical paintings of the Renaissance and by the serendipity of abstract expressions and also by Indigenous art from different parts of the world (in particular Australia). Can you elaborate?
Two of my favourite artists are Dutch, one is Vermeer. I am in amid of his attention to perfection, use of glowing tones, rich highly rendered colour and strong composition. Some of my paintings take years of conscious analysis to complete, I call this my Vermeer influence.
The other Dutch artist is De Kooning. In maximum contrast to Vermeer, he paints rapidly, with great energy and expressionist fervour. The imagery is developed largely by instinct.
I like to use the combination of analysis and accident in my work. I have always been intrigued with ancient art and the art of indigenous people. It is art made with strong significance for the people that made it. It can be raw but beautiful and meaningful but mysterious, it can be spiritual, and I would somehow like to get something of it into my own art. I believe that reference to all of the above can help to infuse potency and some sense of "message" in my image making.
Is the natural landscape your muse and if so why?
I love painting about the Australian landscape particularly the desert and man's interaction with this visually exciting and wild subject. I also am fascinated with the energy and constant state of flux found in coastal landscapes. The landscape offers the most powerful imagery possible to an artist, it is big and possesses an unexplainable magic.
Regarding your Manifesto – how have you taken risks with your art?
Sometimes I start with little or nothing in mind and simply follow the painted gestures that I freely make with little or no reference to anything known. Each painting is a new experience, each deliberately much different than what has been done before. This is risky and one must have faith in the fact that one will find a new image that is worth striving for.
What lead you to becoming an artist…childhood influences maybe and what inspires you in 2014?
Basically I did not know what else to do…. I was a secondary Maths and Geography teacher for a few years and eventually felt that it was wrong for me and I left this to paint full time. I simply feel that I am doing that which suits me, nobody suggested it and I never aspired to it. Painting is something that I simply grew into. I love to paint, to discover, to reveal ways of seeing to others, and nothing has changed after over 40 years of doing it.
Tell me more about your mentoring workshops.
I enjoy teaching and I learn a lot from encouraging others to find their own ways of creating. By teaching by "taking a line for a walk" we all enter abstraction and from this spot all can feel free to experiment and search for something new without the restriction of having to reproduce already known forms. This approach can be applied to working in the landscape, or with a still life subject or with the figure. Everything is a step forward; mistakes are necessary to learn from, and to find meaning and appropriate direction. Workshops are relatively short experiences and leave me most of my working hours to my own work.
Do you have any upcoming exhibitions?
No, and this does not worry me….something will come up…I have just sent some large paintings to a gallery in Perth….let's see what happens over there. I seem to have one or more exhibitions a year, whether they are planned for or not…..I have had up to 7 solo exhibitions in one year.
Is there anything else you want to speak about?
I feel very lucky to have a paint sponsor, a wonderful studio and my wife Denise who supports me.