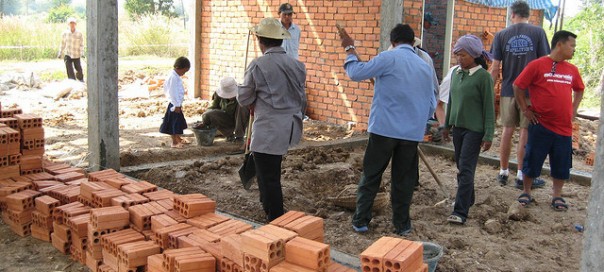 Jenny Cottle

Many holidays impact heavily on the environment – from the fuel that is used to get you to your destination, to the high usage of disposable items, to huge food waste, to wasteful use of resources. The Good News is you can holiday with a lighter environmental footprint.
One holiday option is Homestay – where you stay in the homes of local people in your holiday destination. This is an opportunity to get 'off the beaten track' and to experience local culture a little more closely.
Homestay is a way to give back to local communities. It not only creates small scale employment but, unlike hotels and resorts, there is little infrastructure needed to accommodate guests.
Another option is Ecotourism. It is defined by Ecotourism Australia as "ecologically sustainable tourism with a primary focus on experiencing natural areas that fosters environmental and cultural understanding, appreciation and conservation". It can be a way to help local communities and it can help the environment.
Ecotourism overlaps with another emerging style of holiday – Voluntourism – holidaying while lending a helping hand. This includes holidays to repair damaged environments by removing invasive species and replanting forests; holidays helping local communities and holidays assisting in research to preserve species and wild places. Or volunteering in a zoo.
Environmentally, zoos are a contentious issue. Locking up animals in artificial environments can often seem cruel. However, unless people can see animals, they forget how precious they are – and why it is so important to preserve habitats for their wild cousins.
Zoos are often underfunded, and so can struggle to provide suitable enclosures and stimulation for the animals in their care. Volunteering in zoos can enable them to improve enclosures and provide enrichment for the animals.
It can also inspire. In 2011 I had the joyous experience of volunteering at Zoo Negara in Malaysia with orang-utans and chimpanzees. It is an understatement to say that the daily interaction with these amazing animals changed my life, and has helped drive me to become more active with environmental causes.
Of course with all of these holiday options some are not what they seem. Unfortunately some organisations hide behind the labels of "green" or "compassion" without actually engaging in practises which benefit anyone apart from their bottom line. So it is vitally important to do your homework before travelling – fortunately there are many genuinely beneficial choices of holiday.
Here are some links which may be useful as a starting point:
www.theguardian.com/travel/2014/feb/17/volunteer-holidays-how-to-find-right-project