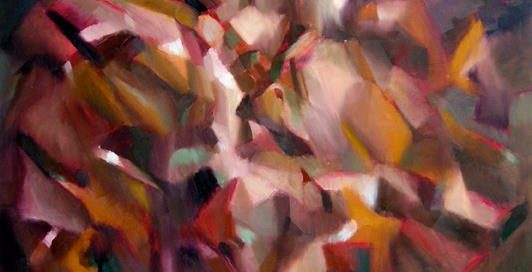 Presenting Artist Maurice Schlesinger
Retiring from full-time work gives seniors the opportunity to spend quality time following passions that were possibly, for one reason or another, set aside in their youth. Maurice Schlesinger is one such retiree as he has allowed a lifelong love of fine art to take over from his working life as a graphic designer.
Most artists have had great teachers, and along the way, Maurice has studied sculpture with well-respected artist and teacher the late Tom Bass as well as painting and drawing at the iconic Julian Ashton Art School.
As an artist, Maurice enjoys the discipline of realism but is also drawn to experimentation and abstraction. He has always had a passionate desire to draw, even as a child, winning his first award for an ink drawing in his youth. After moving to Brisbane in the mid-fifties, his passion had to take a back seat to the need to earn a living, but he still took classes and drew and painted at every opportunity.
Upon retirement, Maurice's new direction in his artistic life has seen him rewarded with a drawing prize in the Sydney Airport Authority competition, a Very Highly Commended at the Drummoyne Art Show for one of his abstract oil paintings and a third prize in the sculpture section of the Royal Easter Show for one of his metal sculptures.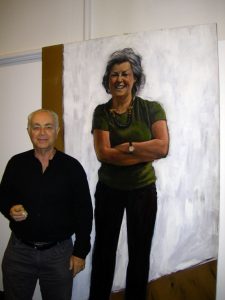 Portrait of art dealer Stella Downer by Maurice Schlesinger, a finalist in the Moran Prize
Maurice's portraits in oil were included in the Archibald Prize's Salon des Réfusés in 2000 and 2001, and he has had successful showings of his art at the Windows on Church St Gallery in Melbourne and at the Norton Gallery, McMahons Point. He has also exhibited in the Sculpture in the Vines in the Hunter Valley, at the Moran Prize and Willoughby City Art Prize, and at the Bega National Portrait Awards.
Maurice is an exhibiting member of Portrait Artists Australia, he is equally passionate about sculpture and painting, but hopes to be able to explore the challenges of portraiture which he finds particularly stimulating.
The moral of this story might be cliché, but nevertheless, it demonstrates that is it is never too late to follow one's lifelong passion; the final words on the matter go to Maurice…
"Now that I have been able to return my passion to the driver's seat, I am relishing the challenge of establishing a personal style. Although I still enjoy the discipline of formalism, I want to extend my capacity to experiment. For example, I accept the constraint of the need to portray a likeness in a portrait, but I increasingly find myself introducing less restrictive elements, such as in my portrait of the artist Elisabeth Cummings.
My development as a sculptor grew out of an interest in architecture, and I hope it will eventually lead to the opportunity to contribute to the built environment in the form of a large public piece. There is no greater joy than using one's skills and talents to create pictures and objects which will give others pleasure, and I intend to use every opportunity to experience that joy. I am on a journey of discovery, and I plan to take pleasure from every step along the way." Maurice Schlesinger