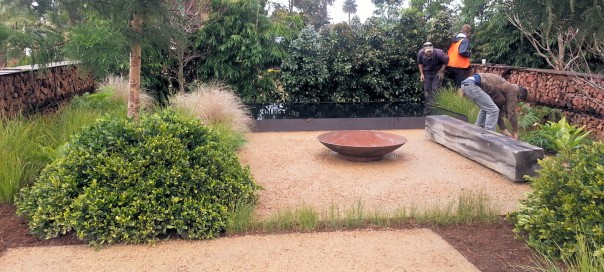 Jenny Cottle

On a rainy afternoon I was reminded we do not need to sacrifice to tread lightly on our planet, and that there are many ways to connect with the natural world in our homes.
Sadly this year Sydney did not turn on its best weather for my visit to the Australian Garden Show Sydney, but once again I was reminded of the joy and contentment that contact with gardens bring to the eye and to the soul.
Meandering along the pathways, looking at the feature gardens exhibits I was delighted by the use of colour, shape and texture to create so many beautiful gardens. Gardens designed to suit spaces from large to small, from spacious back yards to the smallest balconies and terrace courtyards. Gardens which made you feel that modern life and style does not mean abandoning the natural world.
And beyond the gardens, even many of the other exhibits were inspiring. From clever pot designs to make use of unusual spaces, to artworks to floral displays exquisite in their ingenious simplicity.
It was a joy to watch others interact with the displays and stands. From children splashing in the water to overheard conversations in appreciation of floral colour combinations, to seeing a secret stoke of a leaf.
Many of the gardeners involved also made a point of being aware of the impact our actions have on the planet.
In his balcony garden, Inside Out, Courtney Taylor made use of drought resistant, slow growing trees. These trees can be grown as over-sized bonsai to create an almost mini forest in a tiny space.
In his garden, My Garden Studio, Andrew Davies offered a variety of ways we might like to make small urban gardens an extension of our homes – to be lived in. From growing food harvested in pots and between stepping stones, to a place to display favourite things, to a place to entertain and cook.
Rupert Baywill's Green City Living balcony garden, sought to incorporate sustainable and ecological practises with the use of native plants. His wall of native grasses gave lushness to a bare space.
With his garden Refugium, Adrian Swain made use of recycled materials such as bricks and timbers to create an urban refuge from our busy lives, and intends to re-use the materials in the garden that was displayed.
Kate Grace's This Balcony, offered up an edible plant wall as part of her commitment to sustainable living.
In his garden Tread Lightly, Christopher Owen was not only aware of the impacts of a designed garden on a landscape in the long term; he also had in mind the impact of his garden on the site at Centennial Park.
His choice of materials and elements in his garden minimised the impact of a new garden on the watershed by avoiding hard, invasive elements such as concrete and pavers.   There were no single use materials used in the garden resulting in no waste removal – all components of the garden were returned to suppliers or used in other gardens.
Another feeling which I found when admiring this garden was its sense of peace – for want of a better word – Zen. The walls of green offered one an opportunity to embrace, protection and the ability to 'shut out the world'. The water feature was a direct invitation to reflect. Christopher believes that, "sensitivity to our environment should be fundamental in all garden design".
I came away refreshed and invigorated with ideas for making the urban spaces where I live more pleasing to the eye without weighing heavily on the planet.
Lead photo is 'Tread Lightly' by Christopher Owen